Kirisun PoC solution is a radio communication system that operates on a combination of mobile networks (3G/4G) and Wi-Fi access points to provide wide-area connectivity. This approach allows the system to provide highly efficient and reliable critical communication along with dispatching capabilities used in enterprises, institutions, utility plants, transportation, logistics, hospitality, retail, industrial parks, factories, air/seaports, among various other industries Due to its wide coverage map and reliance on existing infrastructure, the system can be rapidly deployed in batches to meet the users specific needs. This scalability of implementation allows for improved emergency response speed and overall work efficiency.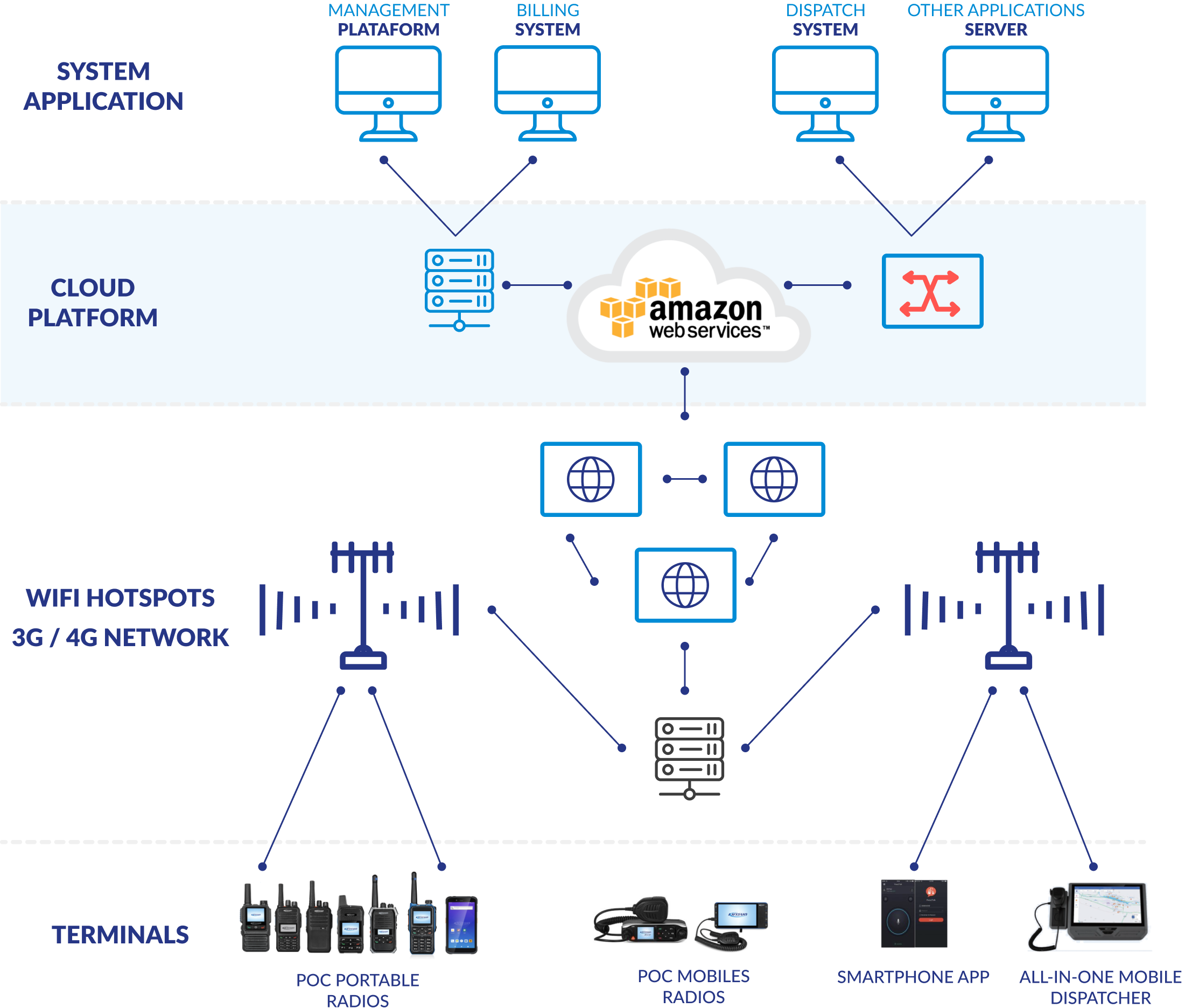 Kirisun PoC solution provides a step above the typical two-way radio user experience with its reliable infrastructure system, feature-rich with stylish aesthetics and ruggedly designed terminals.
One-click Call
Allows the user to press the PTT key once to call a user-defined contact or group, regardless of the radio's current state.
Group Management Supported
Supports both fixed and temporary group management. Fixed group configuration is synchronized with the NMS platform in real time, improving the efficiency of dispatching operations.
Multiple Call Types
Supports multiple call types such as group call, individual call, all call, and broadcast. Dispatcher interface supports video calling, providing supervisors with real-time visuals.
Terminal Management
Remote stun, remote kill, and remote activation can be performed by a supervisor to allow for convenient control over individual radio terminal use.
Multimedia Messaging
Supports PTT voice functionality as well as messaging with text, picture, and/or video.
Radio Monitoring
Allows the dispatcher to monitor radio terminals when necessary, providing supervisors a more comprehensive view of the worksite situation.
Location-based Services
Allows supervisors to check team members' real-time location, playback location history, set up geo-fencing, and receive automated alerts when the geo-fence is crossed. Travel distance metrics and custom location bookmarking help supervisors coordinate workers properly.
Log Management
Allows supervisors to check operation logs, location records, alarm records and missed calls. Detailed records allow for effective management of users and radio terminals.
SOS Alarm management
Supports instant voice or video calls from the alarm-originating terminal. Record the time stamp, location, user, and processing method of each emergency alarm, dispatcher map displays clear location of alarm-originating terminal.
Patrol System Integrated
Helps managers to more effectively and efficiently supervise, manage, and document patrol personnel and patrol shift records.
Lone Worker
Allows supervisors to mitigate safety concerns regarding unaccompanied workers. Terminals can be configured to notify dispatch and/or other terminals if an accident happens.
Server Backup Redundancy
Ensures that the main server can hand operations off to the backup server automatically and seamlessly when an unexpected failure occurs.
Multi-screen Dispatching
Supports voice dispatching, AVL, SOS alarm management etc. display on different screens simultaneously, mitigating the need to switch pages frequently.
Additional Features
Job ticketing, custom avatar, view size, file push, online reports...