The DS 5800 is a highly scalable, feature-rich dispatch solution. Its single and multi-site IP connection capabilities allow it to provide advanced voice and data services to Kirisun DMR II radio terminals across various networks. Leveraging this global connectivity allows our system to offer real-time monitoring of audio communications and radio terminal locations. Its wide-area network design allows the system to be operated by multiple dispatchers from anywhere in the world, giving them access to voice recording management and providing remote control over critical radio terminal functions such as Check Status, Monitor, Kill and Revive.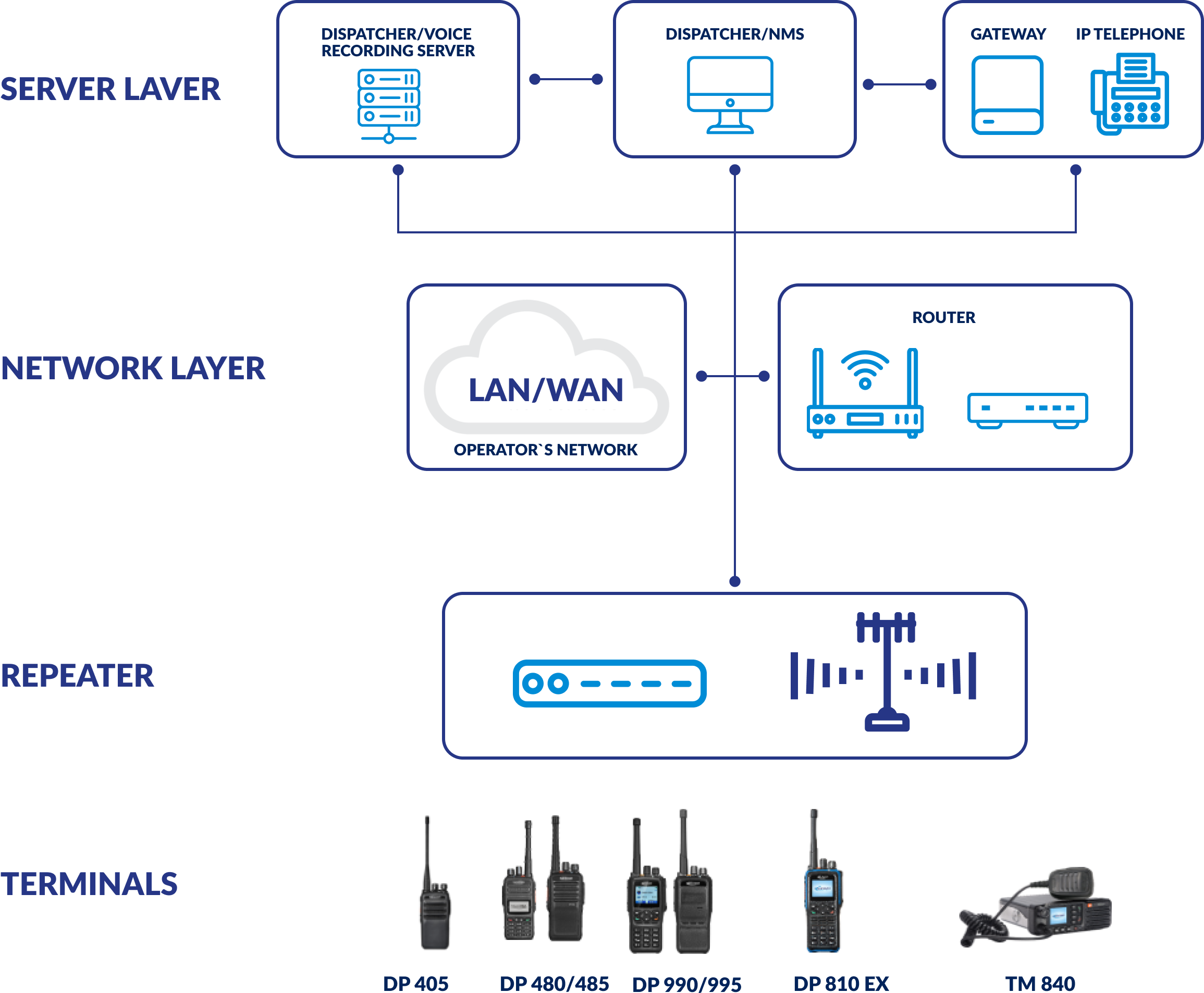 Voice Dispatch
The dispatch client software provides operators with powerful tools that give them the ability to initiate and respond to private calls, group calls, and/or calls broadcasted to all users.
Messaging
Dispatch operators have access to tools that give them the ability to initiate and respond to private messages, group messages, and/or messages broadcasted to all users.
Emergency Alarm
When an emergency event is triggered by a subscriber radio terminal, the dispatch console will receive instant visual and audible alarm notifications.
Contact List Management and Quick Access
The contact list provides fast access to convenient terminal management tools directly from the main interface. Operators can use the contact list to perform remote actions on individual radio terminals such as Stun, Kill, Revive, Message, Call, or polling of GPS location.
Voice Recording
All voice call communications are documented and recorded allowing for convenient review of important events.
Geofencing
Use the map view to draw regions of allowable travel and assign terminals to their respective region. The system will notify dispatchers as well as the infringing terminal the moment a terminal leaves its designated region.
GPS Tracking
The GPS location of portable and mobile radio terminals can be monitored in map view in real-time. The time intervals of locational updates can be customized for individual terminals using our configuration management software.
Mapping
Location history is documented and recorded for convenient route playback using a user-friendly Google Maps-based interface.
Wide Area Networking
DS5800 adopts an IP-based Client/Server architecture. This intelligent resource distribution model allows our servers, gateways, and dispatch client software applications to be deployed reliably across the World Wide Web.
Dispatcher Intercom
The system allows dispatch client operators to communicate directly with each other for increased coordinating efficiency.
Public Telephone Network Support
DS5800 supports standard SIP protocols which allow it to integrate with typical IP-PBX systems in order to bridge voice services between DMR radio terminals and the public telephone network (PSTN). This feature gives dispatch operators the ability to make and receive traditional phone calls via the dispatch client interface.